Benefits:
Best for cheer & spirit apparel
CPSIA certified
Highly durable
Available In:
12" or 20" Wide Rolls
CAD-CUT® Glitter Flake™ Heat Transfer Vinyl
Create looks that sparkle and shine with this special effect material
Order Now
Details
Click image to view larger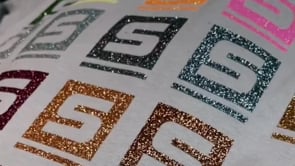 Material Overview
Glitter Flake™ is best known as textured glitter heat transfer vinyl used to produce vibrant designs. This unique, bling material is perfect for creating stand-out looks for fan and spirit wear, cheer uniforms, fashion garments, and more.
Glitter finish that won't flake off or wash away
Compatible with our Stahls' Rip-Away Appliqué™ Process
Order online and save 2%, discount is applied automatically
Note: When Light Pink Glitter Flake is applied to dark coloured fabrics, the light pink colour becomes iridescent.
Also available in:
40" rolls
without a carrier
Material Specifications
Composition: Polyurethane (PU)
Thickness: 325 microns/.325mm
Stretch & Rebound: 3
Washability: 50
Safety: CPSIA Certified
Laser cutter compatible
User Guide
CAD-CUT® Glitter Flake™ Heat Transfer Vinyl
Application Instructions
Set iron dial between Cotton & Linen
Place on flat, hard surface
Cover design with cover sheet or other multi-purpose paper
Press down on iron with medium pressure (do not slide iron)
Press each section of the design for 15-20 seconds
If areas of design lift after application, replace cover sheet & re-press for 10 seconds
Peel carrier cold
Application to Natural Fibers
Application to Synthetic Fibers
Heated Lower Platen Application to 100% Polyester
Pressure:
60 psi (#6/Medium on Hotronix® machines)
Heated Lower Platen Instructions for 95% Polyester / 5% Spandex / Triblends
Pressure:
60 psi (#6/Medium on Hotronix®)